Abstract According to the rhythm of previous years, the annual Central Economic Work Conference will be held this week. Yesterday (December 8), the Central People's Broadcasting Station reported that the Central Economic Work Conference will be held on Tuesday (December 9). It is reported that this meeting will be on the economy of 2015...
According to the rhythm of previous years, the annual Central Economic Work Conference will be held this week. Yesterday (December 8), the Central People's Broadcasting Station reported that the Central Economic Work Conference will be held on Tuesday (December 9).
It is reported that this meeting will be deployed for the economic work in 2015. As the closing year of the 12th Five-Year Plan, there will be many plans to be fulfilled in 2015, which has made this year's Central Economic Work Conference a high-profile.
An expert who did not want to be named told the reporter of the Daily Economic News that the decision-makers will discuss the macroeconomic policy priorities, economic growth targets and key reform measures in 2015. However, as the 2015 fiscal policy mix has been clarified at the previous Politburo meeting, it may focus on the 2015 GDP growth target and fiscal deficit rate.
Economic growth rate may be lowered to 7%
The target for economic growth in 2014 is around 7.5%. The completion of this target should not be a problem, but in 2015 this target may be lowered to 7%.
The China Academy of Social Sciences' Financial and Economic Strategy Research Institute released the "China's Macroeconomic Operation Report 2014~2015" (hereinafter referred to as the "Report"), saying that China's economic growth is still under downward pressure in 2015, and GDP growth is expected to slow to 7%. It is recommended to implement a more active and effective fiscal policy. From the short-term indicators, China is in the process of bottoming out the new normal economic cycle. The overall economy is still in a downturn, and there is still no sustained momentum to stabilize and upward. The downward pressure on economic growth in the future is still relatively large.
The above-mentioned "Report" also pointed out that China must abandon the unilateral pursuit of rapid economic growth, and promote economic development from relying mainly on factor input to more sustainable development driven by innovation.
Li Xuesong, deputy director of the Chinese Academy of Social Sciences, said that the reasons for China's economic downturn in 2015 include that external demand is difficult to increase substantially, consumption is generally stable, investment is overcapacity in manufacturing and relatively insufficient innovation technology, and real estate inventory is relatively low. Higher factors make it difficult to maintain high-speed growth for a long time.
The aforementioned unnamed person said that the 2014 economic target setting is somewhat controversial, and it is finally determined to be around 7.5% instead of 7%, mainly because the decision-making layer considers the importance of stabilizing employment and creating a stable economic operation for comprehensively deepening reform. surroundings. From the actual situation this year, although the downward pressure on the economy is relatively large, the employment target is completed ahead of schedule.
Wang Tao, chief economist at UBS, told the Daily Economic News that 6% to 7% of GDP growth in the next two years is enough to sustain employment. According to its estimates, the 6.5% GDP growth rate in 2015 will be enough to create more than 11 million new jobs in urban areas. "This also means that the decision-making level is more tolerant of growth slowdown, and the lighter employment pressure means less need to implement strong incentives."
UBS expects that the decision-making level in 2015 will continue to slow down the pace of credit expansion, and will not introduce strong monetary policy stimulus, but will further increase liquidity support and cut interest rates again to prevent passive tightening of monetary and financial conditions.
JPMorgan Chase has judged that although the adjustment of the real estate industry and overcapacity industries will continue to exert pressure on economic growth in 2015, the service industry is likely to continue to achieve relatively stable growth, and economic restructuring will continue to advance steadily.
Large fiscal deficit space
According to the annual national budget: In 2014, a fiscal deficit of 1.35 trillion yuan will be arranged, an increase of 150 billion yuan over the previous year, of which the central government has a deficit of 950 billion yuan, and the central government will issue 400 billion yuan of debt.
Although the fiscal deficit and the size of the national debt have increased with the expansion of the economic aggregate, the deficit rate has stabilized at 2.1%, reflecting the continuity of fiscal policy. Looking ahead to 2015, both the absolute deficit and the deficit rate are likely to increase.
The above-mentioned "Report" pointed out that the fiscal deficit needs to be appropriately expanded. In the process of economic slowdown, fiscal policy is affected by economic fundamentals on the one hand, and the growth rate of fiscal revenue is declining. On the other hand, fiscal responsibility needs to bear the responsibility of countercyclical regulation, and it is necessary to expand expenditures. This inevitably requires a moderate expansion of the deficit scale and debt scale. .
However, considering that the highest level of fiscal deficit in GDP in the past was 2.9%, and based on the goal of preventing financial and financial risks and other factors, the aforementioned "Report" believes that the national fiscal deficit in 2015 should be controlled at 1600 billion yuan. In 2014, it increased by 300 billion yuan.
According to the National Audit Office's data for the first half of last year, China's government debt accounted for about 30% of GDP. If the EU debt balance accounts for no more than 60% of GDP, there is still much room for China's active fiscal policy.
Li Xuesong said that a proactive fiscal policy should focus on "stable growth, expanding domestic demand, and protecting people's livelihood", reducing direct financial intervention in the market economy, and focusing on strengthening the responsibilities of making up for market defects and failures. The scientific and effective financial management work should be strengthened, the inter-annual budget system should be implemented, and the efficiency of fiscal funds should be improved. The medium-term adjustment mechanism of the annual budget should be established to enhance the flexibility of budgetary scientific adjustment.
Even if the fiscal deficit increases, it does not mean a substantial expansion, JPMorgan Chase reports that the policy of tightening local debt will offset this fiscal expansion. There is still uncertainty as to whether local debt will be used to deal with the transitional exemption policy and whether social capital participation can replace the reduced public investment.
PU Ceiling Domes break up large ceiling surfaces and light up your room.you may paint it to combine your funiture color, this series goods give you complete new decorative room!
PU Domes are modeled after original historical patterns and designs. Our artisans then hand carve an original piece. Being hand carved each piece is richly detailed with deep relief, sharp lines and a truly unique touch. That master piece is then used to create a mould master. Once the mould master is created we use our high density urethane foam to form each medallion. The finished look is a beautifully detailed, light weight, solid construction, focal piece. The resemblance to original plaster medallions is achieved only by using our high density urethane and not vacuum formed, PU Domes can be cut using standard woodworking tools to add a hole for electrical or a ceiling fan canopy. PU Ceiling Roses (PU Domes,Decorative Ceiling Domes,Architectural Ceiling Domes, Big Ceiling Domes ,Polyurethane Domes,Popular Big Domes)are light weight for easy installation.
Advantages:

1.Modeled after original historical patterns and designs.
2.Solid polyurethane for maximum durability and detail.
3.Lightweight for quick and easy installation.
4.Factory primed and ready for paint or faux finish.
5.Can be cut, drilled, glued or screwed.
6.Can be used on the interior or exterior.
7.Accent your ceilings with beautiful Ceiling Domes.
Our Service:
1. Factory direct sale with excellent quality, reasonable price and first-class service.
2. Timely delivery to every corner of the world.
3. Strong supply capacity, high-tech skills and advanced equipment can surely meet customers'requirement.
4. Launching new designs for each category every year.
5. Exquisite workmanship. All products 100% inspected.
6. Preferential freight by Famous shipping company.
7. Excellent after-sales service.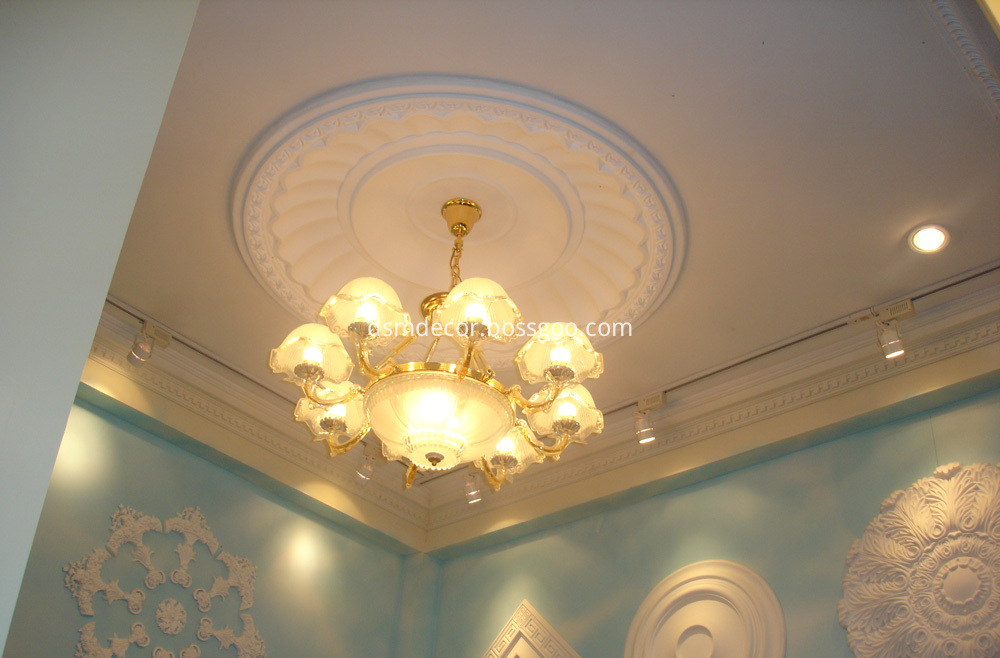 Ceiling Domes
PU Domes,Decorative Ceiling Domes,Architectural Ceiling Domes,Big Ceiling Domes,Polyurethane Domes,Popular Big Domes
Suntronic New Materials Technology Co., Ltd. , https://www.dsmdecor.com