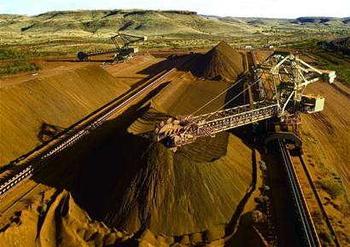 At the 2013 China Iron Ore Inter-Kitchen Market Symposium, Vice President of the China Iron and Steel Association Wang Xiaoqi stated that the global iron ore price "has entered a downward channel". "In the second half of this year, there will be a clear oversupply situation in the iron ore market. The price of imported iron ore will be further explored. The annual decline in iron ore is expected to be US$10 to US$15/ton."
At the same time, the global supply of iron ore will rise rapidly. The high profits of the iron ore industry have prompted expansion and new construction projects to be launched. From a domestic point of view, the output of homemade finished products in 2013 will increase by about 20 million tons. From a foreign point of view, according to current plans for expansion of Brazil's Vale, Australia's Rio Tinto and BHP Billiton, the three mines will have an iron ore capacity of approximately 100 million tons in 2013; expansion and new construction of new mines such as Carrara and African mining The plan is also moving forward and the peak production period is from 2014 to 2015. It is understood that CITIC Pacific's iron ore project in Australia will also be put into production this year.
Liu Xiaodong, director of global sales of FMG, the third largest iron ore exporter in Australia, said that FMG's capacity this year will reach 155 million tons.
From a trend point of view, the oversupply of iron ore is inevitable.
Wang Xiaoqi believes that in the first quarter of this year, domestic steel production increased by more than 9% year-on-year, while consumption increased by only 3.1%. There is a huge gap between 192 million tons of production and 149 million tons of consumption, all of which become stocks to be digested. At present, the steel industry has suffered losses for four consecutive quarters, but due to the decline in coking coal prices, this year's steel mills' days are slightly better than the previous year. Under pressure from huge inventory, steel mills will certainly reduce their production capacity and further reduce iron ore demand.
Wang Xiaoqi calculated that if the proportion of China's service industry will increase in the future, the demand for steel will remain unchanged or even negative, and the overall demand for iron ore will slow down.
As for the price trend of iron ore, Liu Pengfei, general manager of Hebei Xinhua Iron and Steel Group Co., Ltd. believes that "130 US dollars/ton is the central axis. It will fall in April and then rise 2 months in a row. It will start falling again in July. Basically to the bottom, then there is another wave of rise.Overall will basically fluctuate between $120 and $140/ton.
Latte Cup,Ceramic Cup,Promotional Mug
Home Decoration,Tablewares And Kitchenwares,Mugs AND Cups Co., Ltd. , http://www.nsdecoration.com